Posted By Min Yi on April 7, 2013
Why wasn't dad going to his only son's wedding? Then we won't need to drive three extra hours to see him after flying for five hours. Does he not care any more about his family? Those were some thoughts that went through my mind before the trip. These were judgements and accusations stemming from my sadness, frustration and love for my father and my family.
To shift out of the blame, I started to wonder what was his positive intention? The answer from what I know of him would be comfort and safety. The reason for that may be left for another story.
Since my two youngest children have only meet him once when they were infants, I thought it was important for them to meet each other again. And how often do we visit the East Coast as a family like this? My children were so excited, "We get to meet your dad today?" They would ask on the plane. "How many more hours?"
We went to a hotel a couple of blocks away, it was late. My father bought some take out and brought it over to us. He said he won't stay because he was sick and did not want to get us sick. Cameron and I blocked him at the door several times, pleading with him. That all we wanted was to see him and it didn't matter to us that he was coughing. Even if we had all gotten sick from exposure, it would have been worth it.
He did stay a little longer. Not sitting, but standing by the heater watching us eat. And finally left five minutes later.
Again feelings of sadness and disappointment were upon me. And again, I sought his positive intention: his comfort and love for our health. I asked what I was willing to do to meet him, meet the needs of my family and my own need for connection?
The next morning, we went for a nice walk on the beach and on the broad walk. Collected unbroken shells and tumbled stones. I asked my children if they wanted to find something for their "gung gung" (maternal grandfather).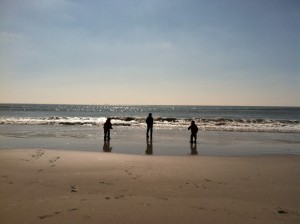 I called my dad and told him we would like to visit him this morning before we left, and wondered if he would like me to pick up anything for him at the store. He asked for grapes. So we went to the store and bought two kinds of grapes, asian pears and shrimp chung fun (thick rice noodles).
About umpteen years ago, I discovered that when my parents said, "Have you eaten?" They mean, I love you. When they said, "Here, I made you some food." They meant, "I love you." Funny how years of resentment can melt aways with such a simple understanding … and now, I wanted to show my dad, I understand.
When we arrived, he was watching a basketball game. We said our hellos and my father washed the grapes and the asian pears. He said he liked asian pears without skin so I peeled the skin for him. I told him asian pear was health full for a cough. After he ate it, he said he could already feel his health improving.
I made noodles for lunch. And asked my children to give "gung gung" their presents. We made a little nature table with them, for my dad to remember that we are thinking of him even when we are away,
We took some pictures and said our good byes. I asked him if he would come out to New York for the wedding or to see us. He said kindly and firmly that he would not. I asked when we would see him again. He answered with light and laughter in his eyes, "In paradise."
To me, we already were.