Posted By Min Yi on June 22, 2012
School ended. I wondered and worried, for a moment, what were we going to do this summer, with three boys and limited financing?
When I was little, my mother rarely allowed me or my brother to take extracurricular activities or summer camp. Food, shelter and savings were the priorities for this immigrant family. But somehow my brother and I survived. We built forts, made paper puppets, cooked, watched T.V., practiced yoga and pretended to be kung fu students from the Qing Dynasty or reenact our favorite Back to the Future scenes. It was loads of fun. The experience taught me that what I get out of life has nothing to do with what I can buy, but rather what I do. Here is just an opportunity to pass that knowledge to my children.
My husband and I agreed to tag team childcare and work. So when he is at work, I stay with the children and vice versa. (I know that having this option is a blessing in and of itself.)
I asked myself what I was passionate about right now so I could share that with my children. It was learning Chinese. So we started a very simple class on Chinese language. Integrating art, writing and stories. It was a big hit.
Cameron built an animation machine so the kids could create their own animation. (Please remember, these are boys.)
Jing Wen wanted to do archery this summer. So Cameron built an archery range for him in the garage. Everyone who wanted to shoot was instructed in safety and etiquette.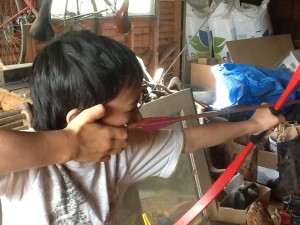 We went strawberry picking the first sunny day. When we returned home, we worked together to blend, freeze, dry and bake them until there was hardly anything left for the fruit flies.
Then there was the down time, in which they wasted not one moment.
I don't think there is going to be any trouble this summer filling our days with activity, creativity and play.